Anthony John "AJ" Hoffman III, CML (Certified Master Locksmith)
March 4, 1956 ~ July 11, 2004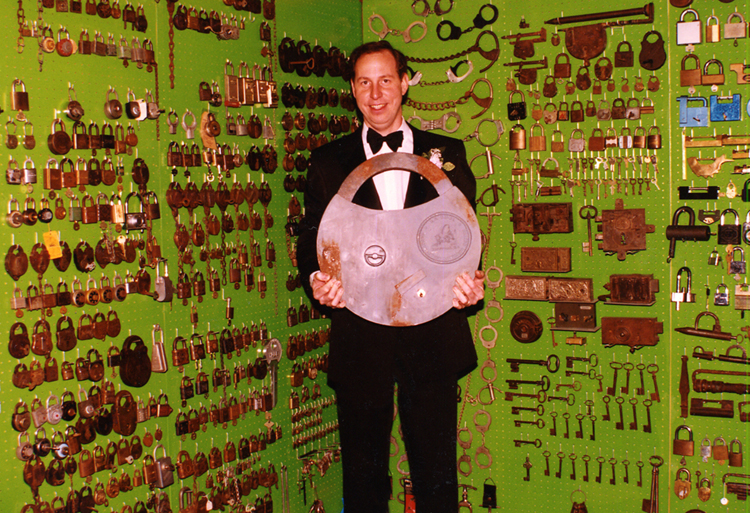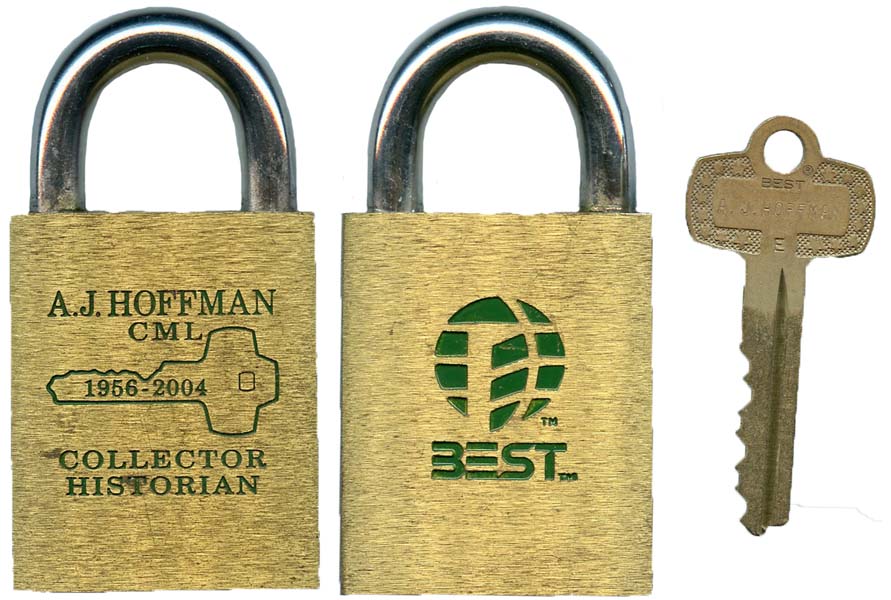 Bob Heilemann with the membership support of the West Coast Lock Collectors Association recommended the production of this padlock. The padlock was designed by Vivian Hoffman. The cut of the Best key outline enclosing the "1956 - 2004 " is the reverse number of the date of his passing. The reason, it was wrong for him to die so young. There were only 100 of this design made.
AJ Hoffman was a world-renowned expert on antique locks and the history of interchangeable core cylinders and key systems. Fluent in six languages, AJ was also an accomplished linguist and musician, singing tenor and providing pronunciation guidance for the Pacific Chorale, one of America's most respected and accomplished professional choruses.
AJ had been a locksmith for over 30 years, a profession which began as a hobby collecting locks and keys around age 7. He had been working as the Training Communications Manager for Schlage (Ingersoll-Rand) for 6 years when he died on July 11, 2004 at a favorite beach in California due to heart failure. He had also served as Senior Product Manager for Kwikset from 1996 to 1998, after five years as Product Manager for Corbin Russwin and over eight years as Kaba Product Manager for Lori Lock in Connecticut.
He served as a member of the ALOA Board of Directors, Co-Chairman of the LIST (Lock Industry Standards & Training) Council and Curator of the ALOA Museum in Dallas. He was the 1992 recipient of the coveted Philadelphia Award and a 1988 inductee into the Locksmith Ledger Security Hall of Fame. He had authored the Kaba Manual and the Corbin Russwin Cylinder Manual, as well as numerous technical and historical articles in locksmith trade magazines, and he has left an unfinished definitive text book covering all brands of interchangeable core cylinders and a collector's book on postal locks. He instructed many classes on master keying, interchangeable cores and other cylinder related topics for ALOA and regional locksmith associations.

AJ was a native of Cleveland, Ohio where he received his B.A. cum laude in French and German from Case Western Reserve University. Living and traveling in Europe added a solid understanding of the European cylinder mechanisms to his technical arsenal. With a proven record in the design and implementation of catalogs, parts manuals and technical classes, AJ was always an immediate resource whom everyone could depend on.

Before his passing, AJ was a nationally recognized marketing professional with 22 years of experience and expertise in keying systems, high security and specialty cylinders, design of parts manuals, catalogs and price books, technical writing and illustration, technical class design and instruction. His in-depth knowledge of all brands of U.S. cylinders as well as experience with European cylinder products and markets along with his extensive Macintosh computer skills helped him to organize and format data and complex subject matter. His experience as a retail locksmith and locksmith wholesaler gave him an intimate understanding of specialty and aftermarket marketing.

He was fluent in French and German as well as Spanish, Italian, Swedish with knowledge of Russian and Chinese.
Vivian Hoffman ... July 2008

Selected Accomplishments
Product Launches
Schlage Everest patented key cylinders.
Kwikset full line parts program.
Corbin Russwin design patented restricted keyways.
Kaba Gemini high security cylinders for the U.S. market.
Publications
Created the Schlage High Security & Key Control Service Manual and three Everest manuals.
Created the Corbin Russwin Cylinder Manual (100 page technical manual).
Created the Kaba Manual (120 page technical manual on entire product line).
Co-authored The Professional Glossary of Terms Relating to Cylinders, Keys and Master Keying.
Created 84-page Kwikset Parts Manual for complete product line.
Created five new Corbin Russwin parts manuals, including door closers and exit devices.
Created 28-page Falcon cylinder catalog section.
Wrote dozens of technical articles in trade magazines.
Nearly completed a locksmith textbook for all brands of interchangeable cores.
Technical Class Development and Instructing
Brand-specific classes on cylinders for locksmiths and internal/external sales forces.
Non-brand-specific classes on interchangeable cores, key blanks and master keying for locksmiths.
Master Keying
Keying Conference, Key Symbols, Standard Progression Format, Matrix Format, Specialty
Cylinders, Master Ring, Hotel Function
Interchangeable Core - Separate modules for each brand
High Security Cylinders - Separate modules for each brand and Manufacturer Certification
Key Blank Identification
Cylinder keys and Non-Cylinder keys
Design Work
18 design patents on multiplex key sections for Corbin Russwin.
4 multiplex keyways designed for Lori Corporation.

Professional Experience
IR SECURITY & SAFETY (SCHLAGE, FALCON, VON DUPRIN, LCN, etc.) 1998-2004
Training Communications Manager, Product Training Manager
Senior Product Manager for Cylinders and Key Systems


KWIKSET CORPORATION, Irvine, CA 1996-1998
Senior Product Manager / Product Specialist
CORBIN RUSSWIN ARCHITECTURAL HARDWARE, Berlin, CT and
YALE SECURITY, Monroe, NC 1991-1996
LORI CORPORATION / KABA HIGH SECURITY LOCKS, Southington, CT 1982-1990
A-1 LOCK & KEY SERVICE and FORTRESS SECURITY CO., Cleveland, OH 1972-1982
Education
B.A. cum laude from Case Western Reserve University, Cleveland, Ohio. Majors: French and German
Junior year at the New Sorbonne University in Paris
Industry Honors
Philadelphia Award (Greater Philadelphia Locksmiths Association) 1992
Locksmith Ledger Security Hall of Fame: Inducted 1988
Special Education Award: Greater Philadelphia Locksmiths Association 1990
ALOA Life Membership: Conferred 1999
Locksmiths Association of Connecticut Life Membership: Conferred 1997
Certification
CML: Certified Master Locksmith (ALOA certification) July, 1987
Organizations
Board of Directors: Associated Locksmiths of America (ALOA) 1985-1998
Co-Chairman: Lock Industry Standards and Training (LIST) Council 1984 - 2000
Curator: ALOA Museum / Library
Director: Lock Museum of America, 1983-85
Member: Penn-Ohio Locksmiths Association, 1974-1984