Richards & Conover Hardware Co.
In 1866 John Richards bought out his partner in the Richards & Chamberlain Co., and in the same year hired John Conover as his traveling hardware salesman - This begins the Richards & Conover relationship.
In 1870 John Conover became a partner, and the firm J. F. Richards & Co. was formed. In 1875 the partners moved from Leavenworth MO to Kansas City MO. In 1881 the firm of Richards & Conover Hardware Co. was formed and subsequently incorporated in 1882.
The company was changed to wholesale only not long after. It sustained itself through two depressions and became stronger as World War II passed. John Richards descendents were connected with the business through five generations until the closing of 'Rich-Con' (as it was always known as in Kansas City) at the end of 2000.

John F. Richards
October 12, 1834 - 1922

Col. John Conover
November 27, 1835 - January 8, 1914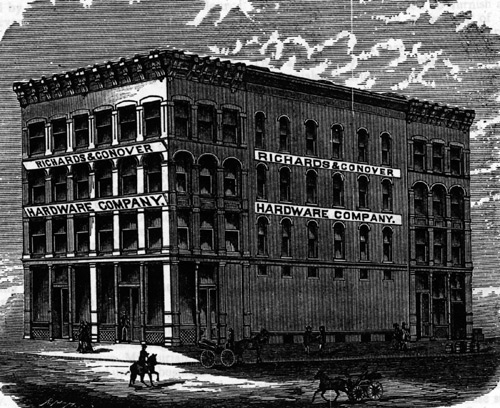 Fifth & Delaware, Kansas City MO 1875 thru1881. Moved to Fifth & Wyandotte 1881.